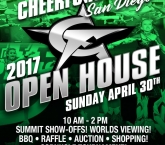 Open House, Summit Showcase and Worlds Viewing Party!
Force Faithful!
It's time for our Annual Open House!
Sunday April 30th
10am - 2pm
We will have all 3 Summit Teams Practicing Sunday!
Rage will be BBQ'ng!
Frenzy will have SnoCones, Cotton Candy and Henna Tattoo's!
This year we will have more vendors and shopping then we have in the past!
Avon, DotDotSmile, Ribbons & Revolvers, GFL and Pearls & Chains
CornHole
Open House is Free to Attend, don't forget your spending money for BBQ and shopping
And of course....
WORLDS VIEWING!
Sunday April 30th!
Lady A's Competes Sunday at 9:26am FL Time (6:26 CA Time).....I will get up and record it so we can watch them throughout the day!
Blackout Completes 4:47pm FL time (1:47pm CA Time)! Lets pack the house for these kiddo's!
NFINITY'S Division starts at 3:00 pm FL Time, they should compete between 3:00-6:00pm FL Time (Noon to 3pm CA Time) I will post an updated time on Facebook once we get Saturday's results. We will keep the gym open long enough to watch NFINITY together!
Please remember, the parking lot during Open House will be closed. Please be respectful of the surrounding business' and neighbors and park only in designated areas. We appreciate your cooperation!
Thanks everyone!