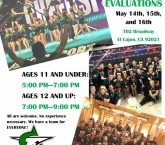 Evaluations 2019-2020
Season 2019-2020 Evaluations
Evaluations will be held May 14-16, 2019 at our gym located at 702 Broadway El Cajon, CA 92021.
Ages 11 and under: 5:00PM-7:00PM
Ages 12 and up: 7:00PM-9:00PM
*age as of August 31, 2019*
Evaluation fee of $30. If you have a scheduling conflict please email SD@cheerforce.com
No experience is necessary. All are welcome! The evaluation process is simply to filter our tremendous athletes into the most competitive and enriching groups possible.