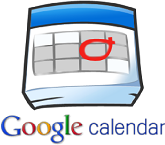 CheerForce Simi Valley now using Google Calendar
Our Google calendar contains our cheer teams' practices, extra practices, and competitions….plus any holiday gym closures. It can be accessed on our website under CALENDAR or the direct URL is http://www.cheerforce.com/simivalley/calendar.
For those unfamiliar with Google Calendar, one of the great features is the ability to SUBSCRIBE to the calendar from your smartphone (i.e. iPhone, Android). By subscribing to our calendar, your phone's calendar will be automatically updated with all our events listed on the calendar. More importantly, any schedule updates (i.e. practice changes, extra practices) will also be automatically updated in your phone's calendar. Your phone will ALWAYS have the most up-to-date details of our schedule.
Any calendar product that supports the "iCAL format" can subscribe to our calendar. Here is the link for the CheerForce Simi calendar:
www.google.com/calendar/ical/9qj2igc0se9stc8k75401lnc0s%40group.calendar.google.com/public/basic.ics