All Star LIMITED ("3/4-YEAR") Teams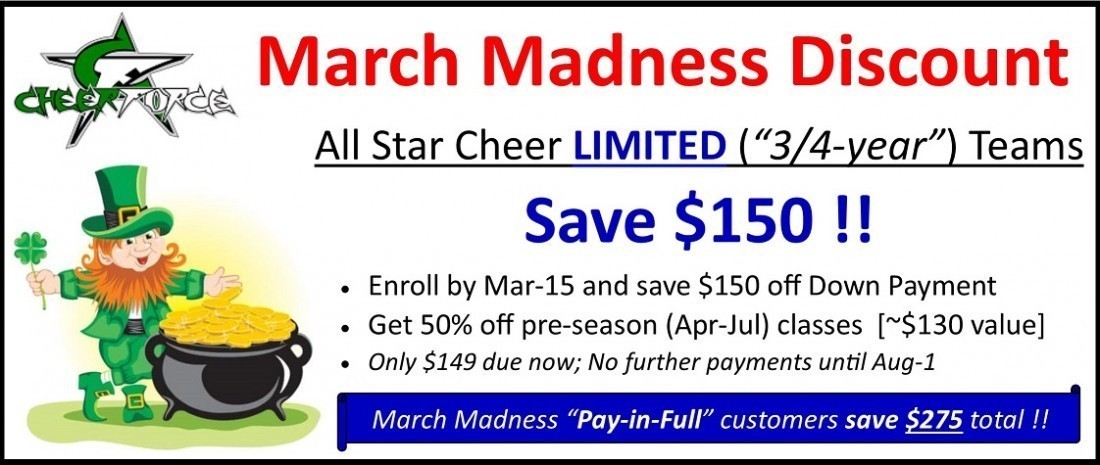 CheerForce All Star Cheer LIMITED (aka "limited travel") is an 8-month (Aug-Mar) program that is in between CLUB ("full-year") and PREP ("half-year"). LIMITED team practices start when school begins (August), so cheerleaders & families have their summer off! LIMITED teams have "limited" travel (no out-of-state) compared to our CLUB teams. LIMITED teams are less than half the price of our CLUB teams.
All Star LIMITED teams practice just one (1) weekday and two (2) Saturdays each month. Team practices start in August and end in March. All Star Cheer LIMITED teams compete at five (5) competitions, which occur on weekends between Dec - Mar.
2018/19 SEASON: Aug 2018 thru Mar 2019
EXPERIENCE: for beginners
PRACTICE: one (1) weekday and two (2) Saturdays per month
TEAMS / PRACTICES:
Mini (5-8yr) / Practices TBA
Youth (9-11yr) / Practices TBA
Senior (12-18yr) / Practices TBA
COMPETITIONS ("local", no out-of-state travel):
1) TBA
2) TBA
3) TBA
4) TBA
5) TBA
PRICE:
Season is under $1,800 (excluding uniform)
Registration...............................$299
Tuition...........................................8 payments of $99
Choreography/Music..............$195
Competition Fees......................2 payments of $195
Competition shirt /bow &
Team shirt/bow........................$115
Uniform......TBA

Questions: 559-908-5969 Fresno@CheerForce.com
(office hours: Sun-Thu 4-8pm)